ABIONIC is a Swiss medical company from Lausanne which has developed a diagnostic platform using breakthrough nanotechnology.
Transforming Patient Care with Cutting-Edge Nanotechnology
At Abionic, the purpose is clear: to revolutionize patient care through the power of cutting-edge nanotechnology. They are firm believers that their rapid, laboratory-quality diagnostic solutions empower healthcare professionals to make early and precise clinical decisions right at the point of need.
Discover the Pancreatic Stone Protein, a real Game Changer in Early Sepsis Recognition
Pancreatic Stone Protein (PSP) serves as a crucial early marker of sepsis, a life-threatening condition. This protein biomarker is produced by the pancreas and secreted in response to sepsis-related organ dysfunction. Figure 1 illustrates the schematic increase of PSP in the blood during sepsis.
PSP demonstrates remarkable accuracy as an early warning sign of sepsis, often rising as early as three days before overt clinical signs and symptoms manifest. Abionic seamlessly integrates an ultra-rapid nanofluidic-based diagnostic platform with the PSP biomarker to provide a unique bedside test for the earliest and immediate detection of sepsis. Available at the point of care (POC) on our abioSCOPE® device, this innovation ensures the timely initiation of optimal treatments, thanks to a more accurate identification of sepsis. Join us in our quest to make a significant impact on patient care and contribute to saving lives through cutting-edge technology.
Improve the patient journey in your healthcare institution by implementing our PSP-Test concept!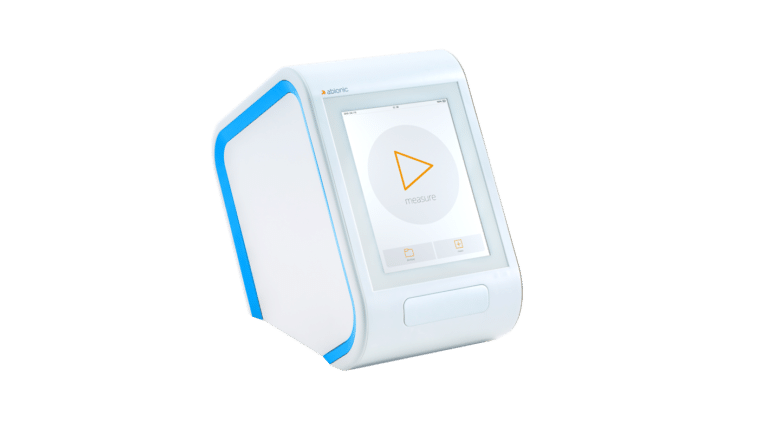 Abionic, based in the Biopôle life sciences campus in Lausanne, Switzerland, is developing and manufacturing in vitro diagnostic solutions using its proprietary disruptive nanofluidic technology.